DESIGN SYSTEM: Building blocks to consistent UX
Hexagon Capability Center India Private Limited
DivyaSree Trinity Campus, Plot No. 5, HITEC City, Phase 2 HYDERABAD Telangana 500081
Jun
30
Time zone:
(UTC +05:30) Kolkata
This is an IDF Local Group meet-up
Attendance is free
You do not have to be a member of the IDF to attend
What are Local Groups?
IDF Local Groups will expand your local career network - whether you are interested in learning new skills, looking for new job opportunities, new clients for your company, or a great new dedicated employee.
An IDF Local Group is a group of people who are just as passionate about design as you are. Each Local Group holds physical meetings and the agenda is to get inspired, discuss, have fun, learn and improve your career. Meetings take place in a relaxed and fun atmosphere at a local cafe, an office building, or an auditorium depending on the agenda for the meeting. For each Local Group there is also an online Local Group so you can stay in touch and help update each other on local events.
Meet-up description
Hi UX designers in Hyderabad! Let's meet to share our thoughts and experiences in designing great UX, and network with one another.

A Design System is a collection of shared patterns and practices that allow teams to build quality user interfaces consistently and quickly. Patterns are the repeating, reusable parts of the interface, such as buttons, colours, icons. A bit like LEGO bricks. Practices are how we create, organize and share those patterns.
While the core UX practices are concerned about leveraging user centered design approaches to design exceptional user experiences for the end users, a Design System focuses on how those experiences can be delivered in an efficient, consistent, and effective manner over and over again.
Design Systems can cover a variety of areas depending on the size of the teams and their unique needs. A well structured design system not only addresses the problems centred around cross-functional collaboration and hand offs, it also provides a beacon of understanding in the form of guidelines and standards, that help the teams take informed design decisions
In this talk we'll explore how the team at Hexagon PPM built their own design system in order to meet their own needs and hopefully learn some ideas on why and how you might need to create your own.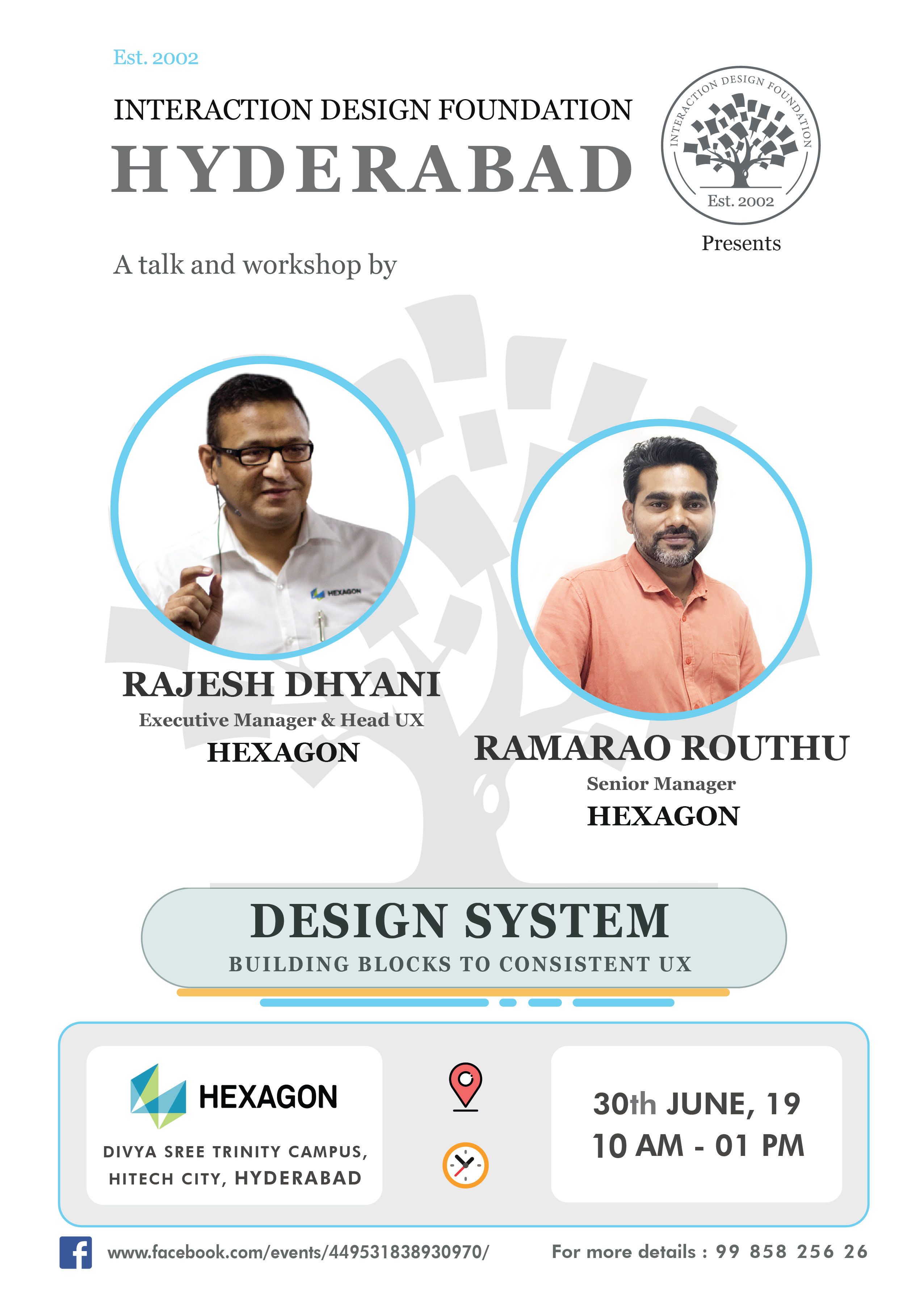 ---
32 IDF members (and some non-members) are attending:
Meet-up discussion
Local Leaders of IDF Hyderabad
Designer - Experience Design
Visakhapatnam and Hyderabad
Andhra Pradesh and Telangana
India