Creating a chatbot - Process, Challenges and Learnings
Retro Rabbit Office
19 Melle Street, Braamfontein Johannesburg Gauteng 2000
Aug
07
Time zone:
(UTC +02:00) Johannesburg
This is an IDF Local Group meet-up
Attendance is free
You do not have to be a member of the IDF to attend
What are Local Groups?
IDF Local Groups will expand your local career network - whether you are interested in learning new skills, looking for new job opportunities, new clients for your company, or a great new dedicated employee.
An IDF Local Group is a group of people who are just as passionate about design as you are. Each Local Group holds physical meetings and the agenda is to get inspired, discuss, have fun, learn and improve your career. Meetings take place in a relaxed and fun atmosphere at a local cafe, an office building, or an auditorium depending on the agenda for the meeting. For each Local Group there is also an online Local Group so you can stay in touch and help update each other on local events.
Meet-up description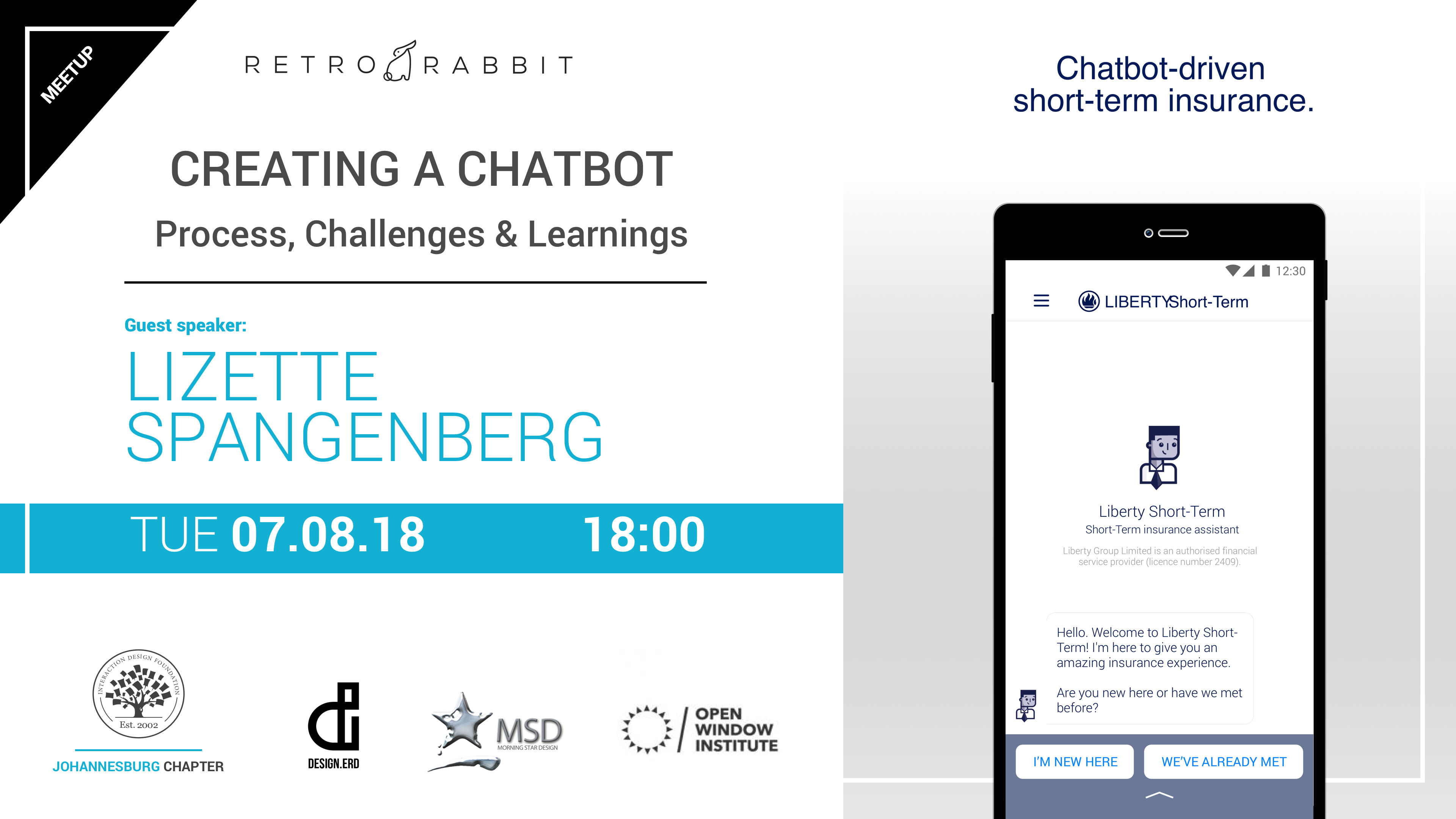 Topic: Creating a Chatbot - Process, Challenge & Learnings

What will be covered?

Investigation of the process of creating a personality and tone of voice for the chatbot, along with the user testing that defined this.
Short demo of the app will be showcased, from which specific UX challenges that were encountered and how they were solved will be presented as learnings.
Findings from user testing will also be discussed and how that influenced certain interactions, and resulted in UX redesigns in some cases.
Accessibility considerations will also be covered, as well as future features and UX improvements that are in the works.
This case study presents practical learnings that can be used by any UX practitioner to improve their own chatbot experience.
Guest speaker: Lizette Spangenberg
Liz is a Senior Experience Designer and the Head of Design at Retro Rabbit. She's passionate about Human-Centered Design, Research, and collaboration with Developers. She's summited Mt Kilimanjaro, has a master's degree in Information Design, and is currently working on a PhD proposal. She also plays violin in the Pretoria Symphony Orchestra. She strives to create beautiful and intuitive experiences on any platform, and to always fight for the people that will actually be using the solutions we create.
19 Melle Street, Braamfontein, Johannesburg (Map)
(Look for "Retro Rabbit" on the side of the building - we're on the first floor)

Safe parking is available at Arbour Square (it's a block away - for your own safety please do not park on the street).

To engage online: Join from PC, Mac, Linux, iOS or Android: https://zoom.us/j/822326967
---
6 IDF members (and some non-members) are attending:
Meet-up discussion
Local Leaders of IDF Johannesburg