AR/MR/VR - The Future (Discussion & Demo)
Morning Star Design (MSD)
109 3rd St, Linden Johannesburg 2195
Feb
06
Time zone:
(UTC +02:00) Johannesburg
This is an IDF Local Group meet-up
Attendance is free
You do not have to be a member of the IDF to attend
What are Local Groups?
IDF Local Groups will expand your local career network - whether you are interested in learning new skills, looking for new job opportunities, new clients for your company, or a great new dedicated employee.
An IDF Local Group is a group of people who are just as passionate about design as you are. Each Local Group holds physical meetings and the agenda is to get inspired, discuss, have fun, learn and improve your career. Meetings take place in a relaxed and fun atmosphere at a local cafe, an office building, or an auditorium depending on the agenda for the meeting. For each Local Group there is also an online Local Group so you can stay in touch and help update each other on local events.
Meet-up description
It's been awhile since our last meetup, but it was worth the wait. So excited about this one!

ALT REALITY, is a Technology Studio, in a league of their own. Creating Virtual Reality experiences by merging custom software and hardware applications.

Guest Speaker: Gareth Steele ( Art Director | Alt Reality )
Bio: Gareth is freelance Art Director and Designer from Johannesburg. He has a degree in Information Design from the University of Pretoria, where he subsequently spent three years lecturing part time at the Department of Visual Arts. He worked specifically within the sphere of second year ideation, mixed media and handmade typography studies. Concurrently, he worked for some of the biggest Advertising and Design agencies in Johannesburg. Throughout his years working with the industry, he has chosen to focus on social design projects, systemic design thinking, and new technologies with mixed media applications. Gareth is currently working on two technology startups in Braamfontein.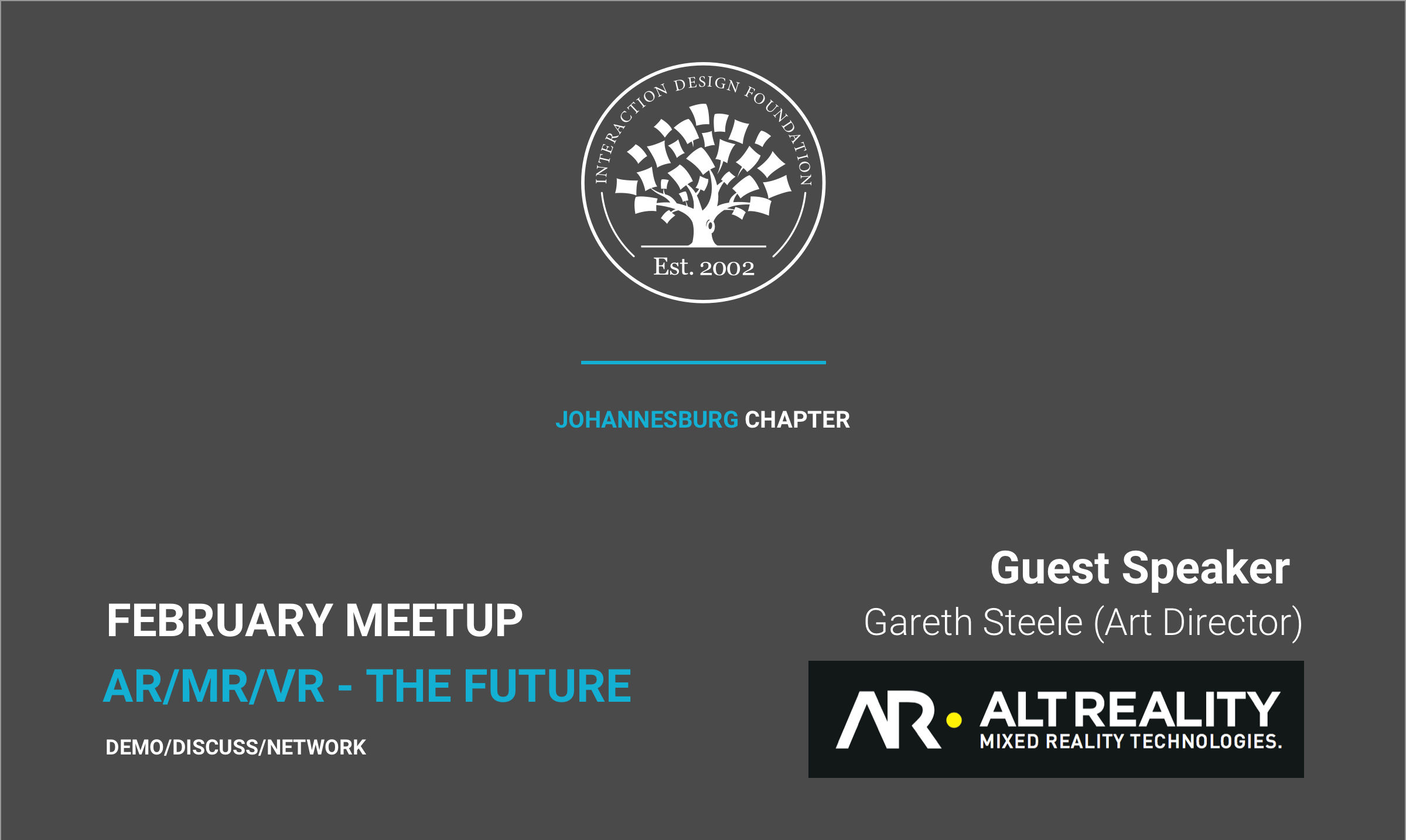 ---
6 IDF members (and some non-members) are attending:
Meet-up discussion
Local Leaders of IDF Johannesburg