The UX Conference in March 2020 in London
Tobacco Dock, Wapping Lane, St Katharine's & Wapping London E1W 2SF
Mar
Time zone:
(UTC +00:00) London
Event Description
Design conference that's not about trends & buzzwords, but collaboration between designers. The theme of the conference on March 2–3 2020 is collaboration between UX, UI and content designers: https://theuxconf.com/
Join our speakers from Abstract, Transport for London, OpenTable, Dyson, The Paciello Group, Nike, 1Password, Government Digital Service, Airbnb, InVision and others to explore how UX designers can work better with UI, content and graphic designers.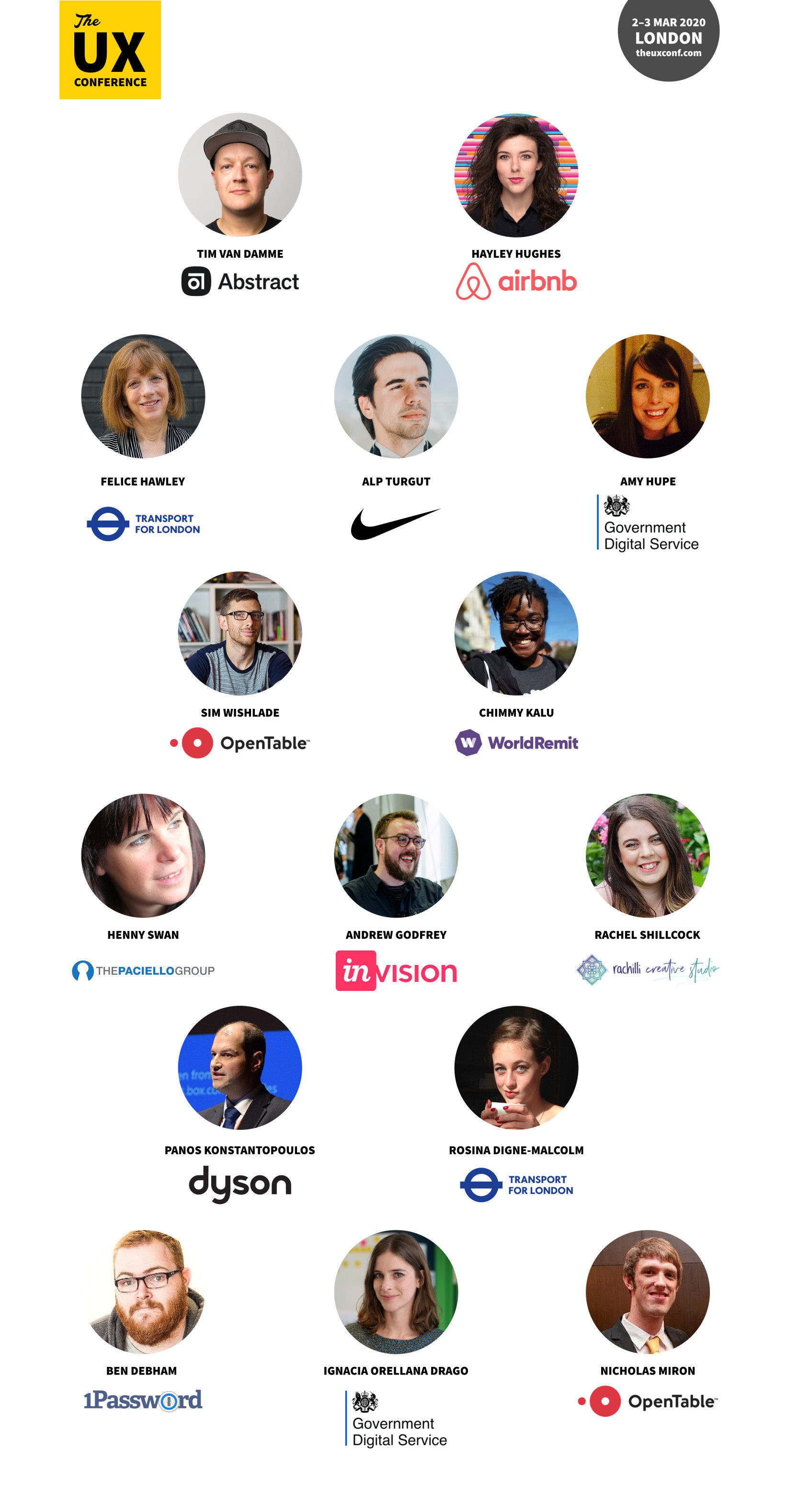 Whilst it's popular to talk about the latest trends, our conferences have been focusing on what we think is the most challenging part of design – communication between each other: internal company politics, presenting value of design and speaking the same language with different stakeholders.

Highlights from previous conferences:
..........................................
Back in September 2018 at the iconic Design Museum in London we explored collaboration between UX designers and researchers. In February 2019 we've talked how designers can work better with marketers. Watch highlights video from September 2018
and February 2019
What our guests say:
..........................................
We've had a pleasure of hosting over 1000 guests coming from all over the world. You can read their reviews on TrustPilot: https://www.trustpilot.com/review/theuxconf.com
"The UX Conference has been a great way to meet other designers in the UX field. Speakers have been really great. It's been awesome to get to network with other designers. And I highly encourage and recommend anyone who's wanting to get more into UX to come to this conference."
★ ★ ★ ★
Femke, Product Designer, Uber
"I was very impressed, the venue was excellent, the quality of speakers, the diversity of topics and their relevance were very well judged. Clearly this conference is growing in stature and being recognised as a must attend conference for anyone connected with UX."
★ ★ ★ ★ ★
Ian, Director of UX, Stibo Systems
"Great speakers, nice size and location I had a really good time and learned a lot. It's probably the most productive conference for me this year. It was very well organised!"
★ ★ ★ ★
Nikita, Senior Software Developer, SAP
"The conference was very impressive. I have been relying many of the discussion points at work this week. Some very insightful and useful experiences shared."
★ ★ ★ ★ ★
Finn, Lead UX Designer, Warner Music Group
"Great day at #TheUXConf! As a student it was inspiring to immerse myself in the UX world with peers and experts."
★ ★ ★ ★ ★
Stuart, MSc HCI Student at UCL, Founder of Mindings
"It was a fantastic conference. Learnt heaps and was a lot of fun. Everything started on time and really liked the panel discussions. Great to hear different point of views."
★ ★ ★ ★ ★
Karen, Graphic Designer, Freelance