You are here:
New ideas for a new year
New ideas for a new year

Hi all! Please use this discussion thread to discuss New ideas for a new year held on Feb 22, 2018. Feel free to ask questions about the place, date and time, agenda of the meeting, or anything else.
All comments:

Hello everyone! For anyone interested in attending when/ where would be a convenient time?
I tentatively set the meet-up for a Thursday (Feb 22) because Thursdays seem to be a nice evening for social activities. I work in Dowtown SF, I can pick somewhere around there, but I am also open to suggestions!

Hi! I am in Las Vegas and tried to do an 'online hangout' today but nobody showed up :( So it looks like your group has a lot more participating members and I joined it. Could we do some sort of virtual meeting? I do this when I co-lead virtual book studies for Boston PHP Group meetup. We pick a book and do a chapter a week and post, but that's on the meetup.com website format. I am not sure if this site has this sort of capability, to host a virtual meeting at a certain time. Anyway, thought I'd introduce myself--please see https://comrieconsulting.com, that's my online portfolio, which is not exactly UX/UI-centered but I've been in web design and dev since 2000 and of course have used a lot of the principles. Following Don Norman, Jakob Nielsen, etc. I joined IDF because it was a lot more economical (considering that I'm job-seeking) than trying to get a Micromaster's in UX/UI from edx.org and I was hoping to network with other web professionals, and improve my skillset in this field through training on this website, also maybe get a certificate. So contact me to chat any time--I'm currently looking for work so I mostly just study and mail out resumes all day.
Cheers,
Vickie
Hello all, I'm in southbay and can meet in downtown SF. Looking forward to it. Thanks!
Delete comment?
Are you sure you want to delete your comment? Your comment, and all replies to it, will be removed. This action cannot be undone.
×
Delete reply?
Are you sure you want to delete your reply? This action cannot be undone.
×
New to UX Design? We're giving you a free ebook!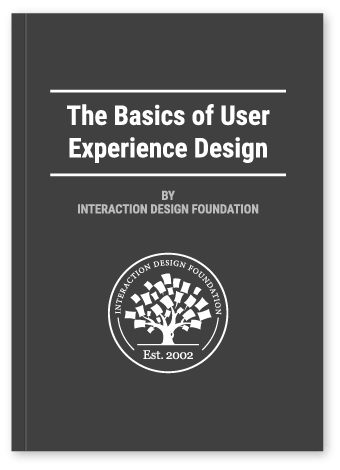 Download our free ebook The Basics of User Experience Design to learn about core concepts in UX design.
In 9 chapters, we'll cover: conducting user interviews, design thinking, interaction design, mobile UX design, usability, UX research, and many more!
×