IDF Zurich Meet-up, Thur, Oct 19th

Dear all
Please use this discussion thread to discuss IDF Zurich Meet-up, held on Thur Oct 19. Again at the http://www.time-lounge.ch/ (long table), because I could not find a better location yet.
Feel free to ask questions about the place, date and time, agenda of the meeting, or anything else.
According to the future Meet-up survey we will discuss an hour starting 19:00 on regular and proposed topics.
The discussion is open which 2-4 topics shall be discussed ;-)
My favorite
regular topics
- Insights from daily use and personal/best practice
- Exchange on high/lowlights in our daily work with providing ux services to customers or internaly
special topics
- Persuation ; How to sell usability research?
- UX how it is integrated in companies [yours]
All comments:

Sorry again about the Bahnhofstrasse and -platz mix up. Thanks to the guys and lady who still showed up after a short stroll.
The cartoon about how important it is to get the involved stakeholders aligned: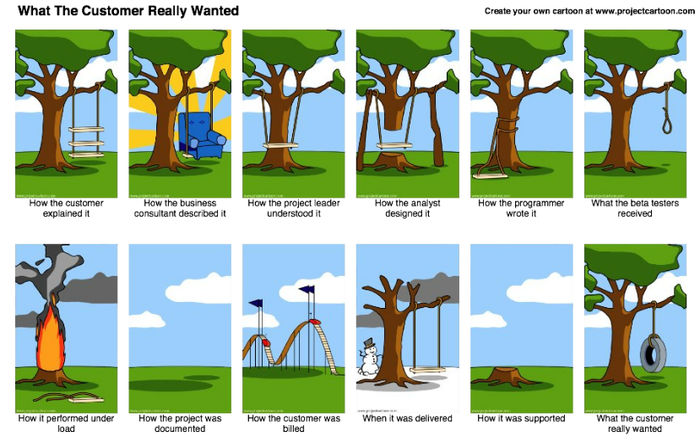 See or hear from you next time!
Delete comment?
Are you sure you want to delete your comment? Your comment, and all replies to it, will be removed. This action cannot be undone.
Delete reply?
Are you sure you want to delete your reply? This action cannot be undone.