Online User Experience Courses
Members can take an unlimited number of courses for free
You get:
Online and completely self-paced ux courses
Course Certificates - see an example
Grading by instructors
A community where you can ask for help, discuss, and make connections
Optional meetings in your area/city
Career help
Available User Experience Courses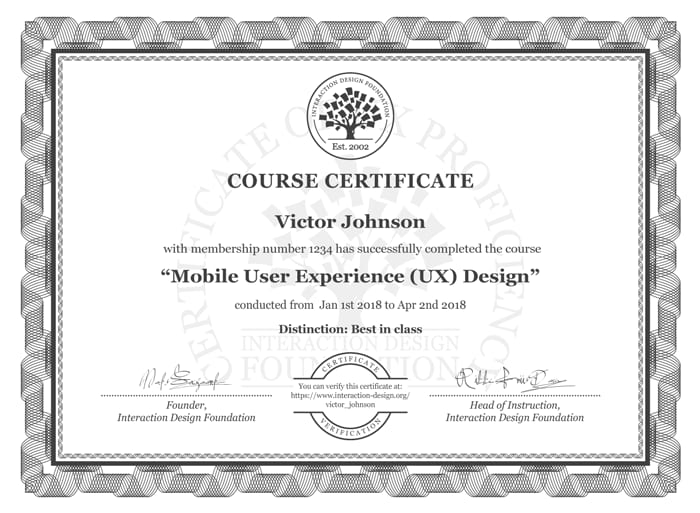 Upcoming UX Courses
The following courses are coming up but the start dates have not yet been set. Please check back in a week to see if the course start dates have been scheduled.
User-Centred Design
Human-Computer Interaction
User-Centred Design - Module 1
User-Centred Design - Module 2
User-Centred Design - Module 3
Information Visualization: A Beginner's Guide
Mobile User Experience (UX) Design
Information Visualization - Updated Version
Adoption and Appropriation - Updated Version
What are others saying?
A goldmine of information on interaction design
Don Norman

Ivy League level education in UX, Product Design or Human-Computer Interaction
Forbes.com

...an incredibly rich compendium filled with a wide variety of lessons and information
Core77

Top-grade educational materials by the world's technology elite...on how to make technology more people-oriented and easy-to-use
SAP Community Network

I am learning lots and loving it. I am not only learning lots but applying my learnings in my day to day work life
Ian R. Stokol (@IanStokol)
Digital Producer/UX Designer/Digital PM PMP/DSDM Agile Practitioner, Australia
Thanks for a really great course. I have learned a lot and I am thankful that I found this page and course. This is about learning and connecting for me.
Silas R. Terkelsen (@risbjergin)
Design, UX, Certified Psychologist, Denmark
I love it and it really helps me to do my job in a digital agency where we really need to stress that marketing objectives do need to take user/consumer experience into account.
Anita Cheng (@tw_anita)
Associate Project Director, Shanghai, Taiwan, Province Of China
Very good course organization with vast amount of content. The lesson brings a lot of new concepts for the newbies.... I love the exercises after each topic
Binh Truong (@rooneyhoi)
Project Manager, Hanoi, Vietnam
I'm LOVING the information that's been provided thus far. Very excited to begin the other courses.
Rothanak Chhoun (@RothanakChhoun)
UXD/BA, Minneapolis, United States
I'm really enjoying this course. Although I'm spending more time on the lessons than I had planned it has been worth it. The lessons are presented in chunks and the exercises have been useful because I can check what I've learned.
Mileine Assato (@mileineassato)
Student, Campinas, Brazil
Course introduction
How much will I have to pay for the courses?

All courses are completely free for members. Once you have paid your membership, you can take all the course you would like. There are no further charges on top of this annual fee.

 

Become a Member and Start Learning

 

Can I take more than one course at a time?

Yes, you can take all of the courses that are active during your period of membership at the same time. For example, if there are six active courses, you can enrol on all six at one time and move from one to the other as you please.

The membership fee entitles you to all of the courses for the whole duration of your membership. There are no further charges on top of this annual fee

 

Become a Member and Start Learning

 

Can I get my manager to pay for my membership?

Here is how to get your manager or company to pay for your membership:

Get approval by your manager (e.g. using the email template below).
Please pay with your credit card (either your own or your corporate credit card).
Your invoice will instantly be ready - and we can modify it to meet your manager's requirements.
You and your manager are protected by our 30-day money-back guarantee.

Example email for your manager

Dear manager,

I would like to get reimbursement for my membership of the Interaction Design Foundation (IDF). This membership can benefit our team and company in the following ways:

I can enroll in all the IDF's self-paced, online courses (in my spare time), which will help me complete current projects with a better result.
I can network with peers from all over the world and find out how others have addressed issues we are currently facing.
I will be able to continuously educate myself on UX topics through IDF's courses and eBooks. I can use my new-found knowledge to save our company from hiring someone to do certain UX tasks in the future.
I can get a mentor from IDF's members from companies like SAP, Google, Apple, Oracle, and universities like Stanford, MIT, Carnegie Mellon, Cambridge and many more.
Because of the breadth of educational materials I will be able to learn how to solve specific design problems. And I can acquire new skill sets that our company is lacking.
I would like to offer to share the key take-aways from the courses with my team.

PS: To give you some background, the Interaction Design Foundation is an educational foundation comprised of the world's design and UX elite and you can read more about the foundation at https://www.interaction-design.org/about

How do I add my Course Certificate to LinkedIn?

Below is a step-by-step guide on how to add your IDF course(s) to your LinkedIn profile:

1. From your profile page, click "Edit Profile":

2. After that go to the 'Education' section of your linkedin profile page and choose 'Add education'

3. In "School" field type 'The Interaction Design Foundation', after you can choose IDF from the menu below. In the "Description" section you can type text as can be seen in the example screenshot below. This way there won't be any doubt regarding the type of education you feature on your profile.




4. After you successfully save your progress, your education page will update automatically.

5. To add a course to your profile, from the "Recommended for you" section in the right hand sidebar

6. Use your IDF course name to fill field, and choose "Student at The Interaction Design Foundation" from dropdown menu.




7. Now the course is displayed in your 'Education' section of your LinkedIn profile.

8. To add Certificate, go to 'Edit profile', and from the 'Education' section choose "Upload a file". Upload your certificate and your work is done.

Now, anyone who visits your LinkedIn profile can see you have earned a Course Certificate from the Interaction Design Foundation